The evolution of smartphone technology is a marvel in itself, with every new model introducing enhanced features that make life more comfortable and more secure. One of the groundbreaking innovations in recent years is the in-display fingerprint sensor which truly changed authentication and security. With our smartphones increasingly becoming repositories of personal data, security stands paramount. This importance isn't just driven by privacy concerns but also by the surge in mobile-based financial transactions. As technology evolves, the reliance on physical credit cards is predicted to wane, with smartphones emerging as the primary medium for purchases.
Just a few years ago, an in-display fingerprint scanner was the stuff of sci-fi fantasies. Today, it's fast becoming an industry standard. These scanners are lightning-quick and offer some of the highest grade security features without as many issues as camera-based ones (like Face ID).
Let's look at this technology, understanding its functionality, benefits, and the future it holds.
Who Invented In-Display Fingerprint Scanning
Back in 2016 a collaboration between Samsung and Synaptics (a frontrunner in developing human interface solutions) started it off with the intent of this technology being in the Galaxy S8. This partnership would eventually break off and Synaptics teamed up with Vivo to kick start what would lead in 2018 to be the first mass production of in-display fingerprint sensors. The technology was called Clear ID. Clear ID technology made its debut in a Vivo prototype at the Consumer Electronics Show in 2018. Clear ID was revolutionary at the time. It would illuminate on the display only when called upon. This innovative approach has sparked excitement as Clear ID promises speed and efficiency, potentially surpassing 3D facial recognition capabilities. Additionally, the integration of SentryPoint technology ensured both high-speed one-touch biometric authentication and top-notch security, all embedded within the touchscreen display.
Another company, Goodix, took a radically different approach to fingerprint authentication and it worked out much better for them. Established in 2002, this Shenzhen-based tech giant has been creating fingerprint sensors for global tech powerhouses like Huawei, LG, Dell, Xiaomi, and Lenovo. Their innovative approach transitioned the fingerprint sensor from hardware buttons to underneath the display, allowing for even sleeker phone designs.
Goodix employed a camera lens beneath the screen to capture thumbprints, rather than using a dedicated chip. This idea really won out at the time because Synaptics/Vivo's initial models, integrated with Synaptic's in-display sensors, were too slow and inconsistent. Vivo would eventually transition to Goodix's more advanced and more accurate technology.
Qualcomm's ultrasonic scanner was also a major player early on – with their technology powering Samsung devices. Ultrasonic scanners promised a more detailed 3D thumbprint vs optical scanners but were slower – especially under varied conditions like wet or oily fingers.
Understanding the In-Display Fingerprint Sensor
Unlike the traditional capacitive fingerprint scanners found on the back or front button of the device, in-display fingerprint sensors are integrated directly into the smartphone's screen. This cutting-edge technology uses optical or ultrasonic mechanisms to capture the unique patterns of a user's fingerprint through the display panel.
Types of In-Display Fingerprint Sensors
Optical Sensors:

These sensors utilize light to capture the reflection of a fingerprint. When the finger is placed on the display, the sensor illuminates the screen to capture a high-resolution image of the fingerprint, which is then matched with the stored fingerprint data.

Ultrasonic Sensors:

This technology, pioneered mainly by Qualcomm, uses ultrasonic waves to detect the intricate details of a user's fingerprint. The sensor sends out ultrasonic pulses that bounce back to the sensor after hitting the ridges and valleys of the fingerprint, creating a detailed 3D map.
Advantages of In-Display Fingerprint Sensors
Aesthetics and Design:

Seamless integration allows for a more expansive and uninterrupted display, leading to sleeker and more visually appealing smartphone designs.

Enhanced Security:

Particularly with ultrasonic sensors, the 3D mapping of fingerprints offers an added layer of security, making it more challenging to trick or bypass.

Convenience:

The front-of-screen positioning provides intuitive and effortless access, ensuring a smoother user experience.

Versatility:

The sensor can function accurately even when the user's fingers are wet or greasy, unlike some traditional sensors.
Challenges and Considerations
While in-display fingerprint sensors are a significant leap forward, they are not without challenges. Optical sensors can sometimes be less accurate than traditional capacitive sensors. Ultrasonic sensors, though more accurate, can be affected by screen protectors or debris. Manufacturers continuously work to improve accuracy, speed, and reliability to overcome these limitations.
The Future of In-Display Fingerprint Technology
As technology advances, in-display fingerprint sensors are expected to become faster, more reliable, and more widespread. Future smartphones might also see larger recognition areas or even full-screen recognition, eliminating the need to place the finger on a specific spot.
Conclusion
The in-display fingerprint sensor represents the harmonious blend of aesthetic design and advanced security in the realm of smartphones. As technology giants continue to refine and enhance this feature, it's clear that the in-display fingerprint sensor will be an integral component of the future smartphone experience, combining elegance with security.
Frequently Asked Questions
Which is more secure, optical or ultrasonic sensors?

Ultrasonic sensors are generally considered more secure as they capture a 3D map of the fingerprint, making them harder to spoof.

Do screen protectors affect the functionality of in-display fingerprint sensors?

Some thick or non-compatible screen protectors might interfere, especially with ultrasonic sensors. It's advisable to use recommended protectors for optimal performance.

Are in-display fingerprint sensors as fast as traditional ones?

Initially, in-display sensors were slightly slower. However, with technological advancements, their speed and responsiveness have significantly improved.

Can the in-display sensor work with wet fingers?

While traditional capacitive sensors might struggle with wet fingers, many in-display sensors, especially ultrasonic ones, can function effectively even with moist fingers.

Are in-display fingerprint sensors exclusive to premium phones?

While initially found in high-end models, the technology is now making its way to mid-range smartphones as well, making it more accessible to a broader audience.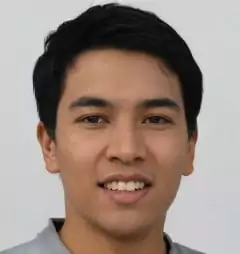 Hi! I'm Eric and I work on the knowledge base at GadgetMates.com.  You can see some of my writings about technology, cellphone repair, and computer repair here.
When I'm not writing about tech I'm playing with my dog or hanging out with my girlfriend.
Shoot me a message at ericchan@gadgetmates.com if you want to see a topic discussed or have a correction on something I've written.