Immersing yourself into the riveting world of gaming isn't just about stunning visuals; it's equally about the audio experience. The best gaming headset can be the difference between a good and an extraordinary gaming session. As 2024 brings an array of stellar headsets, we're here to guide you through the crème de la crème of headphones.
The Champion For 2024: HyperX Cloud II
The HyperX Cloud II has everything you need in a gamer headset – and THEN some. With 7.1 Surround Sound, Memory Foam Ear Pads, a Durable Aluminum Frame, this headset will cost you from $79-$99 and is an incredible deal for the quality you're getting. Chosen by gamers all over the world, we like the Cloud II over the Cloud III in nearly every aspect. This is a wired headset with a boom microphone that boasts a 15-25kKhz Frequency Response. You'll enjoy a really comfortable fit with the ear cushions and padded headband and the 53mm drivers will pack a punch as you game in 7.1 virtual surround sound. Passive noise cancellation, Digitally Enhanced Microphone, and a Durable Aluminum Frame to help protect it if you run it over with your chair.
So how does such an affordable headset win? Price is an important factor but these headphones really stand out on their own. The sound quality is amazing and you'll love the deep bass and the fully immersive experience that's optimized for gaming. HyperX really delivers on their promise of a 7.1 experience with this headset. The sound processing / performance is so precise you won't hear or feel any lag and the bass is potent, making game interactions feel real and impactful.
Whether you're a casual gamer or someone who games professionally, this is the headset you want in 2024. No other headset anywhere close to this price will match the well-balanced sound quality, surround sound, and unparalleled gaming experience in a comfortable and sturdy package.
Pros:
Fit & Comfort: One of the best designs ever on a headset. A great headset for those that wear glasses. Choose between leather and velour earcups.
Build Quality: Exceptionally high-quality build with a braided cord that doesn't tangle. Feels more expensive than its price tag.
Mic: Detachable and flexible with clear audio capture. Listening to one's voice has a bit of a delay but is useful to some.
Sound: Crisp, clear, and loud. Notable while gaming or watching movies.
Usability: Control box with buttons is convenient, adding significant cord length.
Price: Amazing price for what you get.
Cons:
Intermittent Sound Issues: This is rare but some users have reported that there can be issues requiring a restart or reconnecting of the USB control box. This only affects a small number of users.
Compatibility with Devices: You may run into some minor incompatibilities when trying to pair these with other devices.
Rating: ⭐⭐⭐⭐⭐
The Runner Up: Razer BlackShark V2 X
The Razer Blackshark V2 X is a really good choice at a lower price point than almost any other headset on the 2024 list. This set will run you anywhere from $49 – $69 and features 7.1 Surround Sound with 50mm drivers and a comfortable memory foam cushion. This model has been refreshed with PS5 support and boasts Advanced Passive Noise Cancellation, a Lightweight Design with Breathable Foam Ear Cushions, a Hyperclear Cardioid Mic, and several other features. This is probably one of the best "budget" headsets you'll find on the market and it's tailor made for gamers. Whether you're an avid Razer fan or new to the brand, this headset won't disappoint. Its sound quality, comfort, noise cancellation, and microphone clarity make it a standout product in its price range. However, some improvements could be made to the mic design and cable quality. Still, for its price, it offers an unmatched gaming experience. Highly recommended for gamers seeking a blend of quality and affordability.
Pros:
Superb Gaming Sound: The 50mm triforce drivers in this headset deliver a sound quality far superior to many in its price range. You get a dynamic sound range that's crisp, clear, and well-defined.
Built for Comfort: Lightweight and sturdy with metal adjustment sliders. The ear cushions are soft, maintaining their shape even after prolonged use. The ear cups are perfectly sized, ensuring they don't crush the tops of your ears, and the memory foam adds to the comfort, ensuring a secure fit without being too tight.
Excellent Noise Cancellation: The memory foam ear cups not only provide comfort but also do an excellent job in sealing out external noise, allowing for a fully immersive gaming experience.
High-Quality Microphone: Provides crystal-clear voice transmission, rivals even some dedicated "streamer mics." Only picks up the user's voice, avoiding background noises.
Value for Money: Despite its affordable price, the headset provides features and quality that one would expect from a more expensive model.
Cons:
Microphone Design: No removable or flip-up mic.
Cable Quality: Cord is prone to tangling and doesn't straighten out easily
Non-Removable Headset Cable: If the cable gets damaged, the entire headset becomes unusable.
Rating: ⭐⭐⭐⭐⭐
Best Wireless Headphones: SteelSeries Arctis Nova Pro Wireless
These aren't just good…they're truly great headphones. But you're paying for that greatness. The SteelSeries Arctis Nova Pro Wireless is an elite headset with Premium Hi-Fi Drivers, Active Noise Cancellation, Infinity Power System, a Stealth Mic, and Bluetooth wireless support. You'll experience ultimate clarity and sound quality with Premium High Fidelity Drivers. Fully customize the sound experience with the Sonar Software by using a first-in-gaming Pro-grade Parametric EQ. 360° Spatial Audio.
Active Noise Cancellation and AI Noise Cancellation on the Mic. The part that might be hard to stomach for some is the $350-$400 price tag but (believe it or not) that's a bargain for headphones of this quality in this tier. Key features include:
Almighty Audio System: Premium high-fidelity drivers for unparalleled clarity.
360° Spatial Audio: Immersive surround sound that lets you hear every detail in your game.
Compatibility: Works seamlessly with Tempest 3D Audio for PS5 and Microsoft Spatial Sound.
Active Noise Cancellation: Uses a 4-mic hybrid system to eliminate external noise, with a Transparency Mode for adaptive listening.
Infinity Power System: Hot-swappable battery system to ensure your gaming session is never interrupted.
OLED Base Station: Connect multiple devices simultaneously and easily switch between them. Adjust settings without leaving your game.
Dual Audio Streams: Mix two audio streams, allowing for lag-free gaming and Bluetooth connection for other audio sources.
AI-powered ClearCast Gen 2 mic: Ensures clear communication by using AI algorithms to reduce background noise. The mic is retractable for a streamlined design.
In essence, the Arctis Nova Pro is an elite wireless gaming headset, equipped with state-of-the-art features that make it a valuable asset for any serious gamer. It delivers top-notch audio quality, ensuring an unparalleled gaming experience.
Rating: ⭐⭐⭐⭐⭐
The Rest Of Our Top-10 List
Top 10 Gaming Headsets of 2024
| | | | | |
| --- | --- | --- | --- | --- |
| Rank | Model | Max Freq | Microphone | Cable |
| 1 | HyperX Cloud II | 25kHz | Boom | Wired |
| 2 | Razer BlackShark V2 X | 28kHz | Boom | Wired |
| 3 | Logitech Pro X | 20kHz | Boom | Wired |
| 4 | SteelSeries Arctis Nova Pro Wireless | 40kHz | Boom | Wireless |
| 5 | Beyerdynamic DT 770 PRO | 35kHz | None | Wired |
| 6 | SteelSeries Arctis 1 | 20kHz | Boom | Wired |
| 7 | Razer BlackShark V2 Pro (2023) | 28kHz | Boom | Wireless |
| 8 | HyperX Cloud | 25kHz | Boom | Wired |
| 9 | Corsair Virtuoso RGB | 40kHz | Boom | Wireless |
| 10 | Logitech G733 | 20kHz | Boom | Wireless |
Why the Right Headset Matters in Gaming
Sound Precision: Spotting an adversary before they spot you can be pivotal. Directional audio cues provide a competitive edge.
Communication: Coordinating strategies with teammates requires clear and uninterrupted communication.
Immersion: A high-quality headset provides an immersive experience, making games feel lifelike.
Features to Consider When Choosing a Gaming Headset
Sound Quality: It's paramount. Look for headsets with a broad frequency range and multiple sound profiles.
Comfort: Memory foam ear cushions and adjustable bands can ensure comfort during extended play.
Battery Life (for wireless models): A longer battery life ensures you're not frequently reaching for the charger.
Microphone Quality: Noise-canceling features can ensure your teammates hear only your voice and not the surrounding noise.
Wired vs. Wireless: While wireless offers freedom of movement, wired headsets can sometimes offer lower latency.
Future of Gaming Audio: What's on the Horizon?
3D Spatial Sound: This technology is expected to become more prevalent, providing gamers with an even more immersive experience.
AI-Enhanced Noise Cancellation: Using machine learning to better distinguish between voice and background noise, ensuring clearer communication.
Final Thoughts
In the dynamic realm of gaming, where technology continually evolves, having the right headset is crucial. It's not just an accessory; it's a weapon. The year 2024 has graced us with a plethora of exceptional choices, each promising to elevate our gaming escapades. So, are you ready to dive into the auditory realm of your games with newfound clarity? Let the games begin!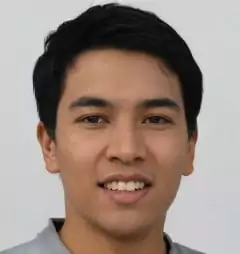 Hi! I'm Eric and I work on the knowledge base at GadgetMates.com.  You can see some of my writings about technology, cellphone repair, and computer repair here.
When I'm not writing about tech I'm playing with my dog or hanging out with my girlfriend.
Shoot me a message at ericchan@gadgetmates.com if you want to see a topic discussed or have a correction on something I've written.