If you want to trade-in your current phone to get the all-new iPhone 15, here's the information you're going to need. The 15 is the latest and greatest phone from Apple and features a sleek design, weighs slightly less, boasts a longer battery life, more powerful processor, additional memory, and is bursting with innovations. But as tempting as the thought of owning the latest iPhone is, it's often accompanied by the familiar sting of its price tag. Enter the concept of trade-in deals, a silver lining for many Apple enthusiasts.
The iPhone 15 has caused quite a stir in the market, and major carriers are stepping up with enticing trade-in deals to attract buyers. This comprehensive overview breaks down the trade-in promotions offered by Verizon, AT&T, and T-Mobile, so customers can make informed decisions.
| | | | |
| --- | --- | --- | --- |
| | AT&T Trade-in Details | T-Mobile Trade-in Deals | Verizon Trade-in Deals |
| Availability | New and Existing Customers | New or Existing Customers (Must have or switch to Go5G Plus or Go5G Next) | New Or Existing Customers (Adding New Line) |
| Device Eligibility | IPhone 11 Or Greater | IPhone 11 Or Greater | Any iPhone Model |
| Offer | Up to $830 credit for a trade of an iPhone 11 or greater, up to $1000 credit on the Pro Max with an iPhone 12 Pro Max or greater. | Up to $830 off the iPhone 15 Standard when you trade in an 11 or greater phone in 'good condition'. | Up to $1000 off with your trade-in. For example, iPhone 15 128GB base model is $829.99 and you get an $829.99 credit for trade-in, so your phone cost = $0.00 Monthly |
| Term | 36 Months | 24 Months | 36 Months |
| What's good about this? | New and existing customers can get $1000 tier with qualifying device. You will need a 12 Pro Max or greater for that tier. | T-Mobile's contract requirement is only 24 months. | Verizon is being very generous with allowing any phone to be traded in. Under their example, new customers can get up to an iPhone 15 Pro for free. |
| What's the catch? | Device requirements higher. Credits apply 3 months after sign up. Math is designed to keep you in the contract and get additional revenue out of you. | If you're upgrading to a Pro or Pro Max you need to trade in a Pro or Pro Max (11 series or greater) | You will be tied to a Verizon Unlimited Ultimate / qualified Unlimited plan for 36 months |
Breakdown by Carrier
Verizon
Trade-in Offer:
Save up to $1,000 on the iPhone 15 lineup.
Offer applicable for both new customers and existing ones adding a new line on the Unlimited Ultimate plan.
Those selecting the Unlimited Plus or Unlimited Welcome plans can get deductions of $830 or $415 respectively when trading in an old iPhone.
Existing customers looking to upgrade can avail up to $830 off on an iPhone 15 model, with select trade-ins on specific Unlimited plans.
The Fine Print:
Any old iPhone, regardless of its condition, is eligible for the trade-in.
AT&T
Trade-in Offer:
Benefit from as much as $1,000 off on the iPhone 15 series.
The offer stands for both new and current customers, whether adding a fresh line or sticking to their existing one.
The Fine Print:
This discount applies to those opting for the Unlimited Your Way plan.
To be eligible for the full $1,000 credit, post assessment of your device's condition, the trade-in value should be no less than $230. Thus, very old or extensively damaged phones might fetch a reduced trade-in value.
T-Mobile
Trade-in Offer:
New and current subscribers have a plethora of options to explore.
Attain the iPhone 15 Pro completely free, meaning a total discount of $1,000, spread over 24 monthly bill credits. This is possible when trading in an eligible gadget and subscribing to either the Go5G Plus or Go5G Next plan.
Alternately, there's a provision to get up to $650 off on any iPhone 15 variant with a trade-in combined with the Magenta Max plan.
Further, there's a reduction of $350 available on the Go5G and Magenta schemes.
Almost all other T-Mobile plans grant a $200 deduction.
The Fine Print:
For those eyeing multiple iPhone 15 units, T-Mobile has a buy one and get a $700 discount on the second one, provided you're adding a fresh line.
Key Dates to Remember iPhone 15 pre-orders kick off at 5:00AM PDT on Friday, September 15th, 2023. The devices will officially hit the stores on September 22nd. To make it easy to take advantage of these trade-in offers, make sure you turn in your old device within 30 days of signing the new contract.
Additional Information About Trade-Ins
The Basics of Trade-In
Trading in is simple. Instead of letting your old device gather dust, you give it back to Apple or another participating retailer. In return, you get a discount on your new purchase. The discount's size depends on the age, model, and condition of your device. It's recycling with perks!
Why Trade-In Makes Sense
1. Financial Benefits: The main allure of trade-in deals is, of course, the financial relief. Upgrading to the iPhone 15 becomes significantly lighter on the wallet when you get a chunky discount in exchange for your old device.
2. Eco-Friendly: Trading in ensures your old devices are recycled or repurposed, reducing electronic waste. It's a win-win for you and Mother Earth!
3. Hassle-Free Upgrade: No need to go through the process of selling your old device separately. Trade-in streamlines the upgrade process, making it swift and straightforward.
Should I Upgrade to the iPhone 15?
If you're using a base model of older iPhones, particularly something older like the iPhone 11 or 12 then you're overdue for a new phone and these trade-in deals will appeal to you. On the flip side if you have a 13 or 14 Pro Max you may want to just ride it out because the upgrade to the 15 isn't as great and being stuck on a long-term contract just won't be worth it. Every contract will have costs that you may or may not know about as well (for example, you'll have to be on a 5G plan with the new iPhones so if that's something you weren't paying for before, you will be now).
The iPhone 15 Trade-In Value
Apple's trade-in program, like many others, calculates the value of your device based on several factors:
1. Model of Your Old Device: An iPhone 12 Pro Max, for instance, would fetch a higher trade-in value than an iPhone 8.
2. Physical Condition: Devices with significant wear and tear, dents, or non-functional components will have a reduced trade-in value.
3. Functional Assessment: A quick diagnostic test will determine if your device is in working order, influencing the trade-in value.
Maximizing Your Trade-In Value
Here are some pro tips:
1. Maintain Your Device: Use cases, screen protectors, and handle your device with care to ensure it remains in pristine condition.
2. Stay Updated: Regularly updating the software ensures that the device operates smoothly, which can be a factor during functional assessment.
3. Backup and Reset: Before trading in, back up your data and perform a factory reset to erase personal data, ensuring a smooth transition.
Trade-In with Third-Party Retailers
While Apple's trade-in program and each carrier's program is usually the most popular route, several third-party retailers (like GadgetMates) serve as a good alternate option if you're not interested in signing a long-term deal or if your device is not qualified for whatever reason – damage, out of date model, etc. We offer competitive pricing for you to sell your phone to us and you can use that cash to get a new one.
Conclusion
The iPhone 15 trade-in deals offer a fantastic way to upgrade to the latest tech without the financial pinch. It's efficient, eco-friendly, and economically smart. Ready to make the switch. Trade-in deals are an excellent way to upgrade to the latest tech while ensuring your old device still holds value. While all three carriers offer substantial savings, individual needs and existing plans will largely dictate the best fit. Always read the terms and conditions thoroughly to avoid any surprises.
Remember, a great way to restore your phone to a condition that the carriers will allow you to trade in is by getting a repair before-hand. For example, if you have a cracked screen and are trading in with T-Mobile they won't allow it – so take your phone into GadgetMates first for an iPhone Screen Repair and we'll get it in the condition they'll accept.
Choosing the right trade-in deal can significantly influence your iPhone 15 buying experience. By understanding each carrier's unique offers and considering the condition of your current device, you can make a well-informed decision that's both economical and satisfactory. Remember, the devil is in the details! And with that said, as far as the 3 major carriers go (Verizon, AT&T, T-Mobile) the deals are very similar this time around so if you want to choose the carrier you think will be the best fit for you – choose on that.
FAQs
How is the trade-in value of my old device determined?
It's based on the model, physical condition, and functionality of your device.
Can I trade in a device with a cracked screen?
Yes, but the trade-in value will be considerably reduced.
How long does the trade-in process take?
It's relatively quick, especially if done in-store. Online trade-ins might take a bit longer due to shipping times.
Is my data safe when I trade in?
Always backup and reset your device to factory settings before trading in to ensure your data's safety.
Can I trade in devices from other brands when buying the iPhone 15?
Yes, many programs, including Apple's, accept trade-ins from select other brands.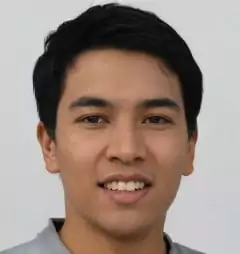 Hi! I'm Eric and I work on the knowledge base at GadgetMates.com.  You can see some of my writings about technology, cellphone repair, and computer repair here.
When I'm not writing about tech I'm playing with my dog or hanging out with my girlfriend.
Shoot me a message at ericchan@gadgetmates.com if you want to see a topic discussed or have a correction on something I've written.