In today's digital age, our iPhones are more than just devices; they're an extension of our lives. From cherished memories to essential work files, they hold immense value. So, when it's time to upgrade, the thought of transferring all that data can be daunting. This comprehensive guide is here to simplify the process, ensuring a seamless transition.
Understanding the Need for Data Transfer
Switching to a new iPhone shouldn't mean starting anew. Transferring data ensures continuity, allowing you to pick up right where you left off. It's about ensuring you don't lose those precious memories, essential apps, and vital work documents.
Pre-Transfer Preparations
Update: Ensure both iPhones are running the latest iOS version.
Connectivity: A stable Wi-Fi connection is crucial.
Power Up: Both devices should be adequately charged to prevent interruptions.
Exploring Data Transfer Methods
Apple, with its user-centric approach, offers multiple avenues. Transferring data between iPhones doesn't always require iCloud. There are several methods available that allow users to move their data seamlessly:
iCloud: A cloud-based solution for those who prefer wireless transfers.
Quick Start: A proximity-based method ideal for devices running iOS 12.4 or later.
iTunes or Finder: A traditional wired method for those who like connecting to a computer.
3rd Party Tools: There are a large number of third party tools you can use that facilitate transfers. Some are paid while others are free.
1. iCloud Transfers
iCloud, Apple's cloud storage solution, offers a hassle-free way to transfer data.
Step 1: On the old iPhone, navigate to Settings > [your name] > iCloud. Ensure 'iCloud Backup' is enabled.
Step 2: On your new device, during the setup phase, opt for 'Restore from iCloud Backup'.
2. The Quick Start Approach
Quick Start is a feature in iPhones running iOS 12.4 and above. It facilitates data transfer during the initial setup. For those eager to dive into their new iPhone:
Step 1: Begin the new iPhone's setup. When prompted, place it near the old device.
Step 2: A visual prompt appears on the new iPhone. Scan it using the old device.
Step 3: Follow the on-screen instructions to finalize the setup.
Tips For Using Quick Start:
Ensure both iPhones are nearby and Bluetooth is enabled.
Sign in to the Apple ID on the old iPhone.
On the new iPhone, tap "Finish" on the viewfinder and follow the on-screen instructions.
Enter the old iPhone's passcode on the new one and set up Face ID or Touch ID.
During setup, choose "Transfer Data from" and select the old iPhone to begin the transfer.
3. Using iTunes
For those who like a hands-on approach:
Step 1: Connect the old iPhone to a computer and use iTunes to create a backup.
Step 2: With the new iPhone connected, opt for 'Restore from Backup'.
Using iTunes to back up and restore data is a straightforward method. Here's some additional tips:
Connect the old iPhone to a PC using a USB cable.
Launch iTunes and select your device. Choose either automatic or manual backup to create a copy of the old iPhone data.
After backing up, disconnect the old iPhone.
During the initial setup of your new iPhone, select "Restore from iTunes backup."
Connect the new iPhone to the PC, launch iTunes, and select "Restore Backup." The data from the old iPhone will be copied to the new one.
4. Finder Method (For Mac Users)
Mac users can utilize Finder for data transfer:
Connect the old iPhone to the Mac and open Finder.
Select the iPhone from the Location menu and tap "Trust."
Click "Back Up Now" and then disconnect the old iPhone.
Connect the new iPhone, go to the "App and Data" screen, and select "Restore from Mac or PC." Follow the on-screen instructions to complete the process.
5. AirDrop
AirDrop is an in-built feature for data transfer between Apple devices. It's best for transferring smaller amounts of data:
Enable Bluetooth, Wi-Fi, and AirDrop on both iPhones.
Choose the data you want to transfer from the old iPhone and select AirDrop.
Pick the new iPhone from the list and tap "Accept" on it to start the transfer.
6. AirDroid Personal
AirDroid Personal is a versatile app for transferring data between iPhones and other platforms:
It supports various file types and offers high-quality data transfer.
To use it, download the app from its official website and install it on both iPhones.
Launch the app, tap "My Device" -> "AirDroid Desktop," and select the files to transfer.
7. Dr. Fone's Tool
Dr. Fone offers a one-click solution for data transfer:
Download and install the app on a PC.
Connect both iPhones using USB cables.
Ensure the old iPhone is set as the source and the new one as the destination.
Select the data to transfer and click "Start Transfer."
Post-Transfer Verification
After the transfer, it's essential to verify:
Contacts and Messages: Ensure no conversation or contact is missing.
Media Files: Photos, videos, and music should be present.
Apps and Settings: From Wi-Fi passwords to wallpapers, ensure everything is as it was.
Troubleshooting Transfer Issues
While the process is designed to be smooth, occasional hiccups can occur. Common issues include incomplete transfers, missing apps, or iCloud backup not being visible. In such cases, restarting the process or ensuring both devices have the latest updates can help.
The Significance of Regular Backups
Beyond transfers, regular backups are a safety net, ensuring you never lose data, even if you're not switching devices.
Conclusion
Data transfer between iPhones, though it may seem complex, is made straightforward with Apple's tools. Whether you're a fan of cloud solutions, proximity-based transfers, or traditional wired methods, there's a solution tailored for you.
And if you want to use another tool, it can be even easier. Whether you're using iTunes, Finder, AirDrop, Quick Start, AirDroid Personal, or Dr. Fone, there's a method that's right for you. Always choose a reliable method to ensure a smooth and lossless data transfer experience.
FAQs
Is the data transfer process secure? Absolutely. Apple prioritizes user data security through encryption.
Can I transfer data from other phone brands to iPhone? Yes, for Android, Apple offers the 'Move to iOS' app.
What if my iCloud storage is full? You can manage storage, delete unnecessary backups, or purchase more space.
Do I need to re-enter passwords post-transfer? For security, most apps will require a fresh login.
How can I ensure a speedy transfer? A robust Wi-Fi connection and minimal background processes can help.
Is there a limit to the data I can transfer? No, but ensure the new iPhone has sufficient storage.
How do iCloud and iTunes backups differ? iCloud is cloud-based, while iTunes relies on computer storage.
Should I avoid using the iPhones during transfer? To ensure a smooth process, it's best to wait.
Will my alarms, reminders, and other settings transfer? Yes, most system settings and configurations will carry over.
How frequently should I backup my iPhone? Regular intervals, like weekly or monthly, are ideal.
How do I choose the best method for iPhone data transfers? Consider the speed and accuracy of the transfer. The tool should handle large amounts of data smoothly.
Why are file transfer tools necessary? When getting a new device, transferring contacts, messages, and other essential data is crucial. File transfer tools make this process easier.
What makes AirDroid Personal unique? AirDroid Personal stands out due to its compatibility with various file types and platforms. It's user-friendly and ensures hassle-free transfers.
Is it safe to transfer data from an old iPhone to a new one? Yes, as long as you use reliable methods and tools, the transfer is safe.
What's the best way to transfer photos from an iPhone to an iPad? Manual connectivity using a USB cable is the most reliable method for lossless data transfer.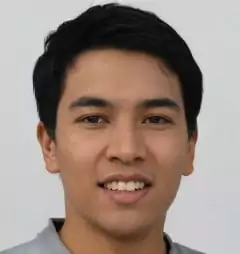 Hi! I'm Eric and I work on the knowledge base at GadgetMates.com.  You can see some of my writings about technology, cellphone repair, and computer repair here.
When I'm not writing about tech I'm playing with my dog or hanging out with my girlfriend.
Shoot me a message at ericchan@gadgetmates.com if you want to see a topic discussed or have a correction on something I've written.