Yes, Apple TV Can Do FaceTime!
If you're wondering whether your Apple TV can handle FaceTime calls, the answer is a resounding yes! With the advent of tvOS 17, FaceTime has been integrated into the Apple TV experience, transforming your living room into a virtual meeting space. Let's dive into how you can make the most of FaceTime on your Apple TV.
1. Requirements for FaceTime on Apple TV
Before you start, it's essential to know the prerequisites. To use FaceTime on your Apple TV, you need:
An Apple TV 4K (2nd generation or later).
tvOS 17 installed on your Apple TV.
An iPhone or iPad with iOS 17 or iPadOS 17.
2. Setting Up FaceTime on Apple TV
Setting up FaceTime on your Apple TV is straightforward. Once you have tvOS 17, you'll find a FaceTime app on your Apple TV's home screen. Here's how to get it ready:
Open the FaceTime app on your Apple TV.
Select your user profile from the list of users.
3. Making and Receiving Calls
The process to make or receive calls is intuitive:
To make a call, use the FaceTime app on your Apple TV.
To receive a call, your Apple TV will prompt you through a notification.
4. Using Your iPhone or iPad as the Camera
Your iPhone or iPad plays a crucial role in the FaceTime experience on Apple TV. Here's how:
5. Ensuring the Best Experience
For the best FaceTime experience on your Apple TV, consider the following:
Position your iPhone/iPad correctly: Put your device in landscape mode with the rear camera facing you.
Ensure a stable internet connection: A strong Wi-Fi signal is essential for a smooth call.
6. Enhancing Your Calls
Apple TV's FaceTime offers features to enhance your video calls:
Use Center Stage: This feature keeps you in focus, even if you move around during the call.
High-quality audio and video: Enjoy clear and sharp video and audio quality.
7. Accessibility and Ease of Use
Apple's design philosophy ensures FaceTime on Apple TV is accessible and easy to use:
Simple interface: The user interface is straightforward, making it easy for anyone to use.
Voice commands: Use Siri to initiate or answer calls hands-free.
8. Integrating FaceTime into Your Routine
FaceTime on Apple TV can be a game-changer for how you communicate with friends and family. Use it for:
Group gatherings: Connect with family and friends on the big screen.
Business meetings: Enhance remote meetings with a larger display.
9. Privacy and Security
As with all Apple products, your privacy and security are paramount:
Secure calls: FaceTime calls are end-to-end encrypted.
Control your visibility: Choose when and with whom you want to be visible.
10. Troubleshooting Common Issues
If you encounter issues, here are some quick fixes:
Check for updates: Ensure your Apple TV and iOS devices are up-to-date.
Restart your devices: Sometimes, a simple restart can resolve connectivity issues.
Conclusion
FaceTime on Apple TV opens up new possibilities for connecting with others. Whether it's for personal chats, professional meetings, or just staying in touch with loved ones, it enhances your communication experience with the comfort and convenience of your living room.
FAQs
Do I need a special camera for FaceTime on Apple TV? No, you can use your iPhone or iPad as the camera.
Can I use FaceTime on older Apple TV models? FaceTime is available on Apple TV 4K (2nd generation or later) with tvOS 17.
Is it possible to make group FaceTime calls on Apple TV? Yes, you can make group calls, depending on the capabilities of your iOS device.
How do I ensure the best audio quality for FaceTime calls on Apple TV? Ensure a strong Wi-Fi connection and consider using external speakers or a soundbar for enhanced audio.
Can I use Siri to control FaceTime on Apple TV? Yes, you can use Siri for various FaceTime functions like starting or answering calls.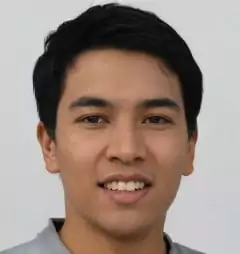 Hi! I'm Eric and I work on the knowledge base at GadgetMates.com.  You can see some of my writings about technology, cellphone repair, and computer repair here.
When I'm not writing about tech I'm playing with my dog or hanging out with my girlfriend.
Shoot me a message at ericchan@gadgetmates.com if you want to see a topic discussed or have a correction on something I've written.